Chronic Fatigue Syndrome ME
Photos of my experience

These Chronic Fatigue Syndrome ME photographs give an idea of my experience of life lived for 14 years with severe CFS.
CFS = Chronic Fatigue Syndrome (Read an article on What is CFS?)

ME = Myalgic Encephalomyelitis
Hi there,
My name is Katherine Owen (I often use Katherine T Owen as my author name).
Thank you for visiting my website.

When you are living with chronic illness, it's normal not to have a lot of photos taken. Who wants to see a photograph of themselves looking ill?
Mind you, in the case of photographs with people with Chronic Fatigue Syndrome ME, often  their apparently healthy appearance doesn't reflect the level of illness and pain with which they live.
(It's one of the reasons why CFS/ME is sometimes called an Invisible Illness.)

I am glad now that I have a few photos of those years, although I have found it emotionally challenging to put together this article.
These photographs remind me just how difficult life was for so very long.
Now I am walking and talking again, every day feels like a celebration. 
But I still live with Chronic Fatigue Syndrome ME and naturally I wish that I didn't.
If this page is found by someone with severe CFS or severe ME, I hope that you are given hope that significant recovery is possible, however it comes about.
And for those of you with less severe  Chronic Fatigue Syndrome ME who nonetheless live with chronic illness or pain every day, I hope my experience will give you hope that you will find ways to manage this very distressing illness. 
If you have found this website, I am sure you have found others too, along with books and CDs that are helping you to rest well and to manage your health.
Even if there is no CFS/ME treatment available, health management is so important. It can stop the illness from progressing and it can allow you to celebrate your beauty even whilst you live with Chronic Fatigue Syndrome-ME.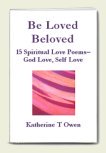 Wishing you healing both within and beyond illness,

Katherine
Katherine T Owen
Katherine is author of this website www.HealingCFSME.com
She is author of Be Loved, Beloved (lulu.com or kindle)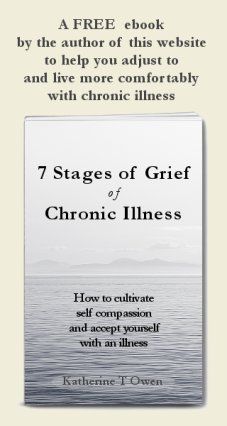 Sign up to receive the free book
and to keep in touch
---
Chronic Fatigue Syndrome ME

Pictures during 14 years bedbound

Care provision was limited




Provision of care services over the 14 years I was bedbound wasn't good. I was unable to even feed myself and yet had only 4 hours care a day.

Eventually someone helped me to get an extra hour a day of private care.
For many years I had a slice of dry bread left out next to me by a carer (caregiver) the night before. This was my breakfast.

When I got the extra hour of private care in the morning, it allowed me to arrange a carer to feed me breakfast.
Many of the private carers didn't speak much English which was a problem. But they were all truly delightful people.
CFS and Weight Loss
I wasn't able to feed myself or be propped up for long. 
For over a year I ate puree. It was so hard for me to chew and swallow and care time was too tight to allow me a break during the meal.
It was a problem maintaining my weight. In the photograph above I am down to 7 Stone (44 kg).
Severe Multiple Chemical Sensitivity

(MCS)


This Chronic Fatigue Syndrome ME photograph is taken of me on Christmas day one year.

I had severe Multiple Chemical Sensitivity and reacted to the paper on the Christmas crackers. The gloves helped to reduce the allergic response.


Visits were rare




Visits were rare, even rarer was a young visitor. I remember how delightful it was to meet my friend's child.

If you are willing to answer children's questions in a straightforward way, they often have a wonderful ability to accept you complete with an illness.

A child's ability to be in the present moment can be a wonderful balm to relieve loneliness.

Out again after 4 years in a room

After discovering that along with   Chronic Fatigue Syndrome ME I also had Multiple Chemical Sensitivity (MCS) I cut out everyday domestic chemicals and became well enough to transfer into a wheelchair 4 times a day.


Two of the trips allowed me to leave the house and return. I would go out into the garden or sit in an old car at the front of the house. See below.


For the following 7 years (until the dramatic improvement in 2008) my world was considerably wider.
The garden, my stationary car and the passing people provided me with a relatively rich and wonderful world.

My Life in a car!

With only four separate care sessions a day, considerable management of my energy levels and the cooperation of others were necessary to allow me to go out each day.

There was also a certain danger involved– there were frequent occasions when I was stuck in the garden when it rained, or stuck in the car when a carer (caregiver) did not turn up.

I chose to treat it as my job to leave the house in this way. The routine helped to give my days direction and purpose.
Chronic Fatigue Syndrome ME

Pictures after the Lightning Process

Severe CFS Recovery




Touching my toes and then stretching up. I think this was one of the first days after my dramatic improvement with the Lightning Process.

I had only been able to stand a maximum of once a day for the previous 14 years.

Yes! After 14 years of not being able to feed myself, I started building up by feeding myself some of each meal.

After  5 weeks I had become able to feed myself all of my meals.

I had 16 years without cups of tea or coffee.

I had little speech and was looked after by carers (caregivers).

Most weeks there was someone new. Carers often didn't get to know much about me or take an interest in  how to look after me.

In order to get everything done in the time, the care routine and menu needed to be set up so that people did the same things each time.

Care time was so full and I had minimal speech with nothing spare to ask for something that wasn't on the care routine.

Tea is not advised for the management of hypoglycemia so it had to be left out of the diet sheet.

I drank hot and cold water for seventeen years, except occasionally when I had a visitor who offered me a cup of tea.


This photograph shows that my arms were strong enough to be back to playing the occasional game of Double Patience. I missed that game!

You can see the feet of the indoor wheelchair and the side of the bed in this Chronic Fatigue Syndrome ME photograph. I still couldn't walk much so I played cards right next to the bed.

After the Lighting Process I was well enough to start going out in a wheelchair.

(Before that my brain and visual ability couldn't cope with the movement of the chair, my muscles were too painful to cope with the vibrations, and I was too dizzy to stay sitting up for more than a few minutes.)


A lovely carer shared my joy as she took me to the supermarket for the first time in 14 years.


Still lying down at times! but out and about in the beautiful Wiltshire countryside!


I know it's not a good composition for a photo, but I love this one.

I walked from the photographer to where you see me. It was amazing to be able to walk that far.


I then walked up my first little hill in a very very long time.





Wishing you healing within and beyond illness.

I mention the Lightning Process on this page. Please know that this is a controversial treatment. Some of you with Chronic Fatigue Syndrome ME who visit this page may even be annoyed by its mention.
The Lightning Process is a tool. In the hands of someone with COMPASSION and KNOWLEDGE of CFS/ME it can be a wonderful tool.
Part of the LP process is to offer you an initial free conversation with the practitioner in whom you have an interest. If this call leaves you feeling worse about yourself then either the process or this person are NOT for you.

---
Articles relevant to Chronic Fatigue Syndrome ME

Move from Chronic Fatigue Syndrome ME Photos to the home page on CFS and Alternative Healing Therapy.
© Katherine T Owen. All articles on this website are copyrighted. I am delighted if you choose to click above to share this page on social media, but please do not copy, print or otherwise use without my permission. Thank you.


Disclaimer: I am not a medical practitioner. The articles on this website are not to be taken as medical advice. Please consult a medical practitioner as necessary.