Healing Poems

I wrote thousands of healing poems during the 14 years when I lived bedbound with Myalgic Encephalomyelitis.
Muscle fatigue meant I lost the ability to write more than a few words at a time so I learned to use a dictaphone. 
Writing and reading poetry helped me in the following ways:
to express myself
to receive my own understanding

to come to terms with my situation of illness,
to process spiritual and psychological insights I received along the way.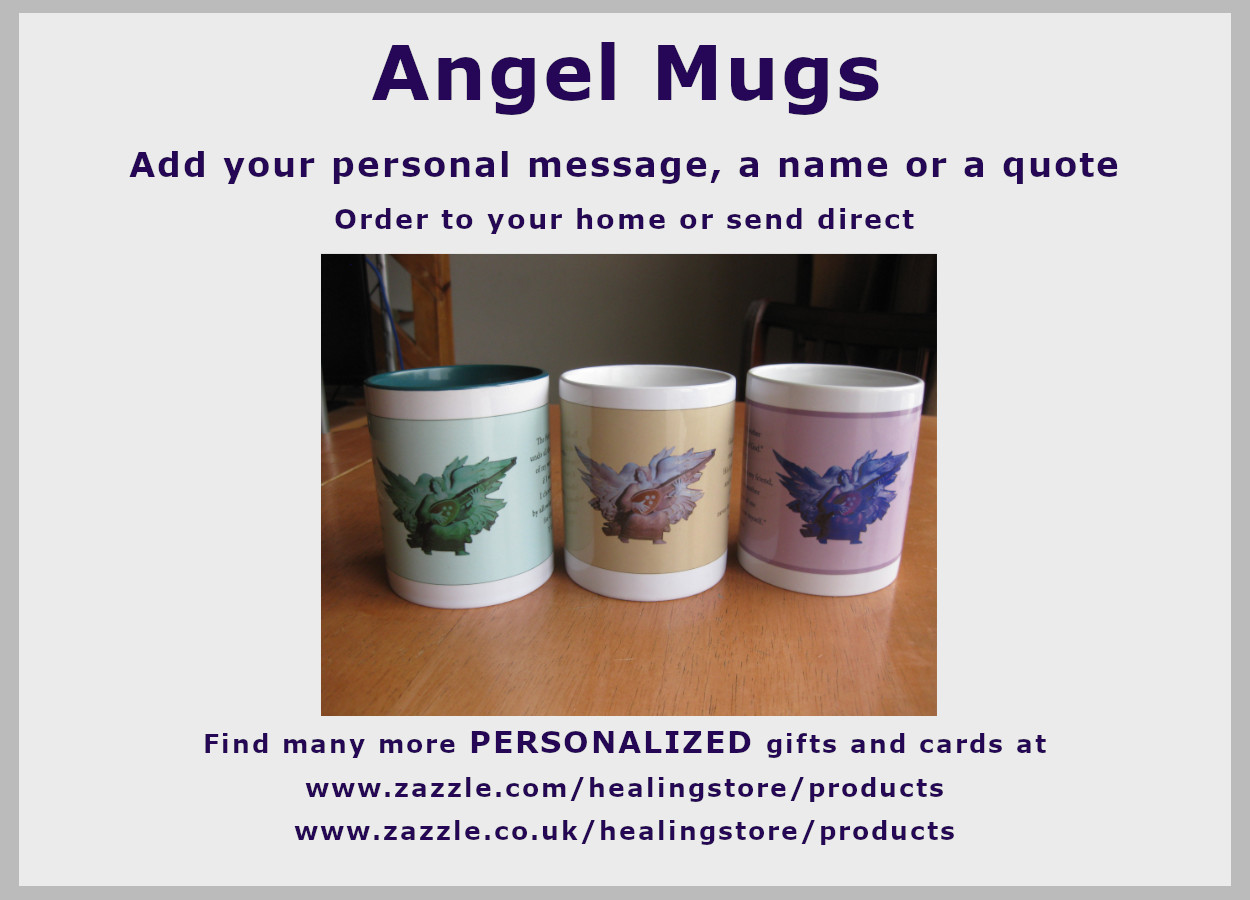 Click on the image above to go through to the Zazzle Healing Store
Or click here to CHOOSE FROM
A RANGE OF personalizable cards and gifts.
The healing-themed gifts are designed by myself, Katherine, the author of
this website HealingCFSME.com
Proceeds go towards the cost of the website. Thank you. Enjoy!

Introducing the first of the healing poems -
The work of living alone with illness

Back in the year 2000, due to disability, I hadn't had a holiday for 7 years.
I had not travelled away from home. But more significantly, I hadn't had a holiday from being in a situation where I was never sure I would get enough to eat each day.
I couldn't feed myself and I couldn't make a phone call without aggravating the head pain and other cognitive symptoms, so trying to organise care was stressful.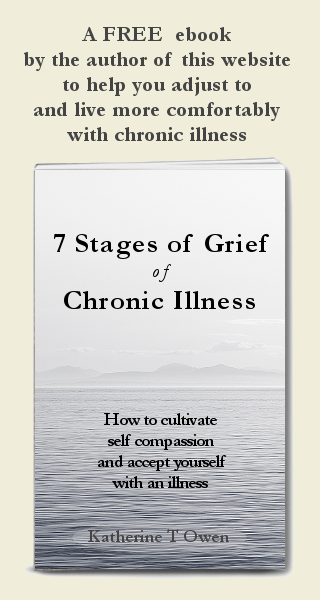 Sign up to receive the free book
and to keep in touch
I lived in North London at that time (in a place called Hornsey). A friend who lived in Devon offered to have me to stay if I could bring a carer with me.

It was tricky, but I found a private carer and made the holiday happen.
It meant a lot to me to spend time with a friend who had known me before I got ill, who could reflect back to me who I was as a person.

At the same time, it also felt slightly dangerous. It gave me a taste of an easier life which was not going to be available to me once the holiday ended.

A book of poems
by the author of
www.HealingCFSME.com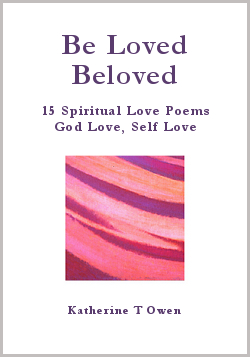 Recommended in paperback
at Lulu.com


The Holiday
Arms that reach out
to catch me if I fall,
to steady me and let me stand alone,
to comfort,
soothe.
Eyes that see me,
that fill with tears at my sorrow
and laugh as I laugh;
that ask questions
about who I am –
wanting to know,
willing to share.
What business have these arms,
these eyes, in my life
of set times and rigid routines
regardless of needs that remain
when I am left alone?
They tease me with possibilities.
But I shall not build barriers
against their gifts.
I receive the warmth of these arms,
the kindness of these eyes.
I store them in my heart
to know my worth,
to fuel my hope of a future
unlike the past.
I feed my soul
for the times of shortage that lie ahead.
I let myself remember what it is
to be loved.
And I accept the consequence –
a sharper recognition of a lack of love
in places where I so wish to find it.
I melt and let it be
a moment of summer.
© Katherine T Owen - please ask for permission to reproduce this poem

Healing poems - number two.
How do you shift your focus from the symptoms of chronic illness?

One of the challenges of living with severe chronic illness is to find a way to shift your focus– at least some of the time– from the symptoms.
If you try not to focus on a symptom you are likely to do so all the more.
So what can you do to send your thoughts in the direction of greater health?
The second of the healing poems represents one of my attempts to do this.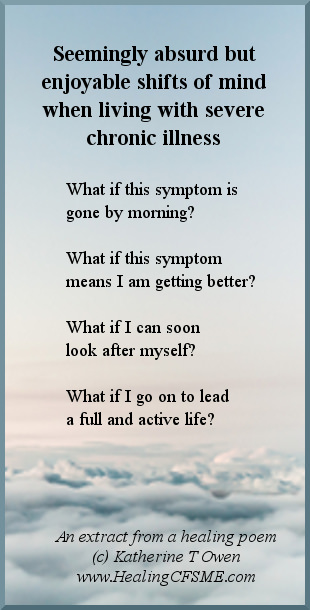 What If?
What if this symptom means
I'm getting worse?

What if I can
no longer keep things going?

What if my carers get angry at the extra work
and leave?

What if I die?
~~~

What if this symptom is
gone by morning?

What if this symptom means
I am getting better?

What if I can soon
look after myself?

What if I go on to lead
a full and active life?
Sometimes the mind needs a push
in the right direction.
© Katherine T Owen - please do not reproduce this poem without permission.

The last of the healing poems shares a theme with the first. It touches on the healing power of relationships.


There Is Nothing Wrong With You
My carer and I are laughing.
She stops and looks at me,
eyes shining.
'There is nothing wrong with you, is there?'
she says,
'I mean apart from being ill.'
My goodness,
how words can heal.
© Katherine T Owen - please do not reproduce this poem without permission.

Relevant to Healing Poems
If you want to submit your own healing poems for consideration, please submit them in the healing forum.
Please do not be offended if I do not publish your poem. It does not mean that it is without merit.
One of the poems above touches on the subject of illness and loneliness. Click through for a prayer to cope with loneliness.

Move from healing poems to see photos of the early days of my recovery from very severe Chronic Fatigue Syndrome /Myalgic Encephalomyelitis.
Click below to return to the Home Page for www.HealingCFSME.com


Receive daily inspiration...
by putting your favorite (favourite) healing quote on
a mug, cushion, postcard, coaster, T shirt etc.
You will find my zazzle gift store at
zazzle.com/HealingStore.
Use one of my designs or start from a blank.
Thank you from me, Katherine, author of HealingCFSME.com

© Katherine T Owen. All articles on this website are copyrighted. I am delighted if you choose to click above to share this page on social media, but please do not copy, print or otherwise use without my permission. Thank you.


Disclaimer: I am not a medical practitioner. The articles on this website are not to be taken as medical advice. Please consult a medical practitioner as necessary.

Disclosure: On some pages, there are affiliate links, for example to Amazon. If you click and then buy within a certain time period, I will receive a small commission which goes towards the running of this healing website. Abundant thanks :-)