About Katherine Owen

Hi there. My name is Katherine Owen.
(I also use the pen name of Katherine T Owen to distinguish me from the American novelist of the same name.)
A journey of finding health within illness

I have lived with chronic illness since the age of 23. The same illness has shifted from a diagnosis of post viral fatigue syndrome to Myalgic Encephalomyelitis (ME) to Chronic Fatigue Syndrome (CFS). Along the way I have also been 'mapped' as having fibromyalgia.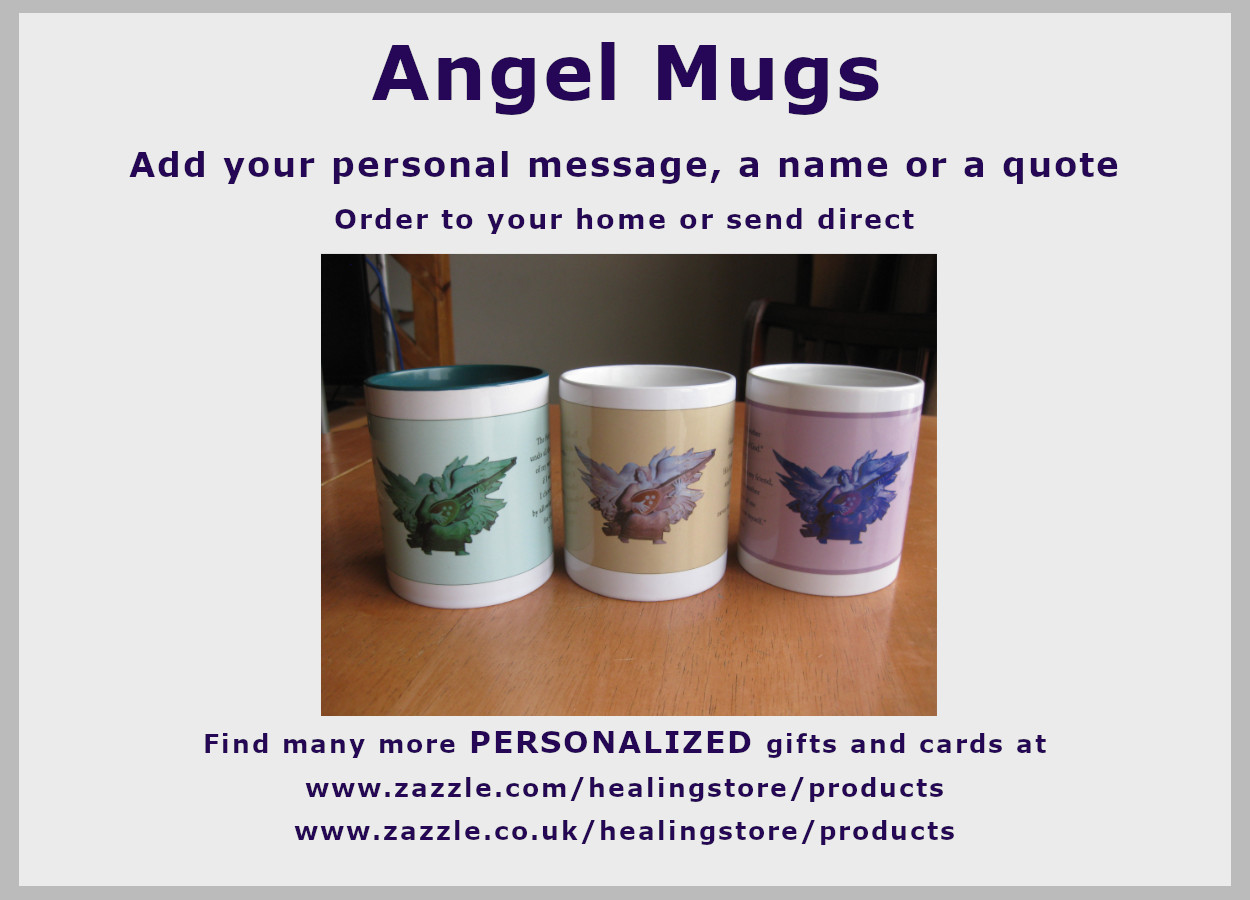 Click on the image above to go through to the Zazzle Healing Store
Or click here to CHOOSE FROM
A RANGE OF personalizable cards and gifts.
The healing-themed gifts are designed by myself, Katherine, the author of
this website HealingCFSME.com
Proceeds go towards the cost of the website. Thank you. Enjoy!

Through the worst 14 years, I had little speech and was unable to feed myself.
I experienced dramatic healing – a significant improvement in health – in 2008.
I continue to live with health challenges.
Nonetheless, I celebrate a BIG :-) life of friendship, hugs, church, poetry, writing, music, art and trips to see the beautiful Wiltshire landscape around me.
If you live with CFS/ME in Swindon, Wiltshire, you may wish to refer to a list of healing methods available near here.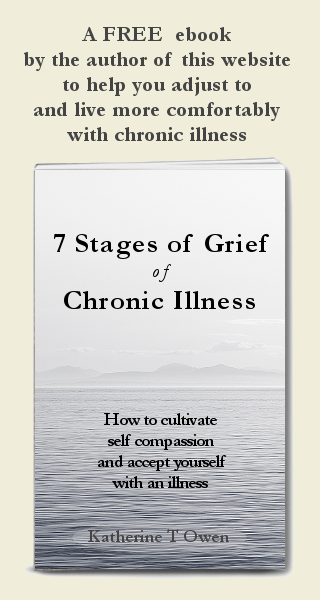 Sign up to receive the free book
and to keep in touch
Non-fiction author and writer

I run this website www.healingcfsme.com on 'healing within and beyond CFS/ME'.
I offer you two free e-books .
<The 7 Stages of Grief of Chronic Illness> is available on this website.
<Releasing Judgment> (over 2,500 downloads at the time of writing ) is available on my spiritual website.
I am working on several books in the categories of spirituality, healing and psychology.
I contributed a chapter to the Amazon best selling book <Radiant Survivor>.

Speaker, radio show guest and youtube featured

I have given talks on spirituality in Swansea, London, Oxford and Swindon.
I have been a radio show guest on BBC Wiltshire, various radio shows, online radio shows, local television and on youtube.
I qualified as a "competent communicator" at Thamesdown Toastmasters in Swindon.
An extract above of an interview for Strawberry Green TV.
Interviewer, Andrew Brewerton.

Katherine Owen as Poet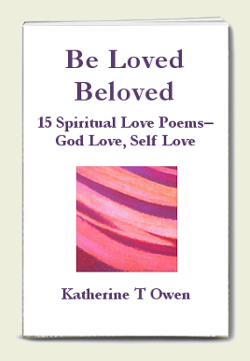 I am the author of <Be Loved, Beloved> - a small beautiful book of spiritual love poems.
Find it on kindle or on lulu.com in paperback.
My poetry has been published in various publications including the following:
The Yellow Book. An anthology of poems from the Rethink your Mind competition in 2015. My poem, Salad, was a winner (one of 6). Part of the prize was that the poem features as a spoken word piece on the album Moving Inwards by the band Refuge.
Caduceus Journal
The Book of Love and Loss - see book cover below.

Domestic Cherry
Imppress
Graffiti
A Day in the Life of 100 Women
The Great British Write off 2015
Illustrate Your Point – an illustrated publication based on a cooperative project between Swindon artists and poets.
My poems are also published online on a number of websites.
I won second prize in a global competition for people with Myalgic Encephalomyelitis, run by Action for M.E.

Katherine Owen as lyricist

I was winner (one of 6) of the Rethink your Mind competition in 2017 - I won an ipad  :-) 
Mark Morriss of the Bluetones wrote a song with my poem I would not be without you as the lyrics.
The video is also amazing! Click below.
I wrote lyrics for the tune My Sweet Hermosa (music first on that occasion), sung by the band Koribantez, of which two members continue at this time as the Latin Jazz duo Gilmore n Jaz.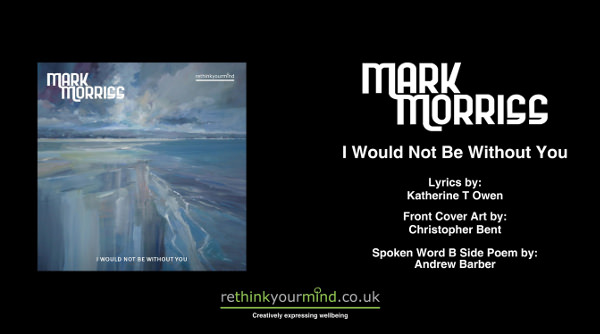 Image only
Katherine Owen as Contributing Author and Poet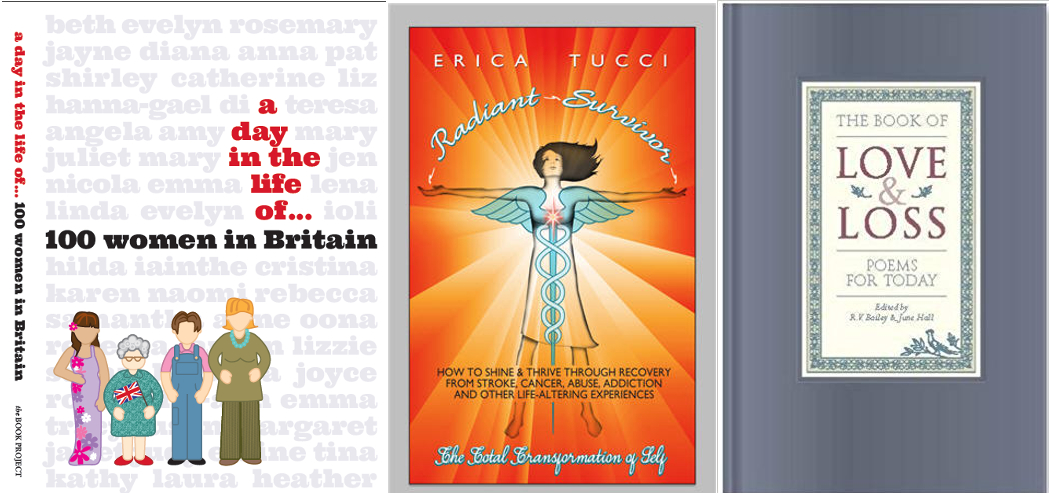 My performances of poetry include <Travellers without Baggage> and <Hidden Paths> both of which combined poetry with music and featured in the Swindon Festival of Literature as well as in other venues in SouthWest England.
I am a proud member of Poetry Swindon – my local, and rather wonderful, poetry society.
(The annual Swindon festival of poetry is in October.)

Katherine Owen's experience and qualifications in Well-Being and Alternative Healing Methods

I am qualified in Level 1 Counselling.

For ongoing self healing, I draw on a range of techniques which include the following:
·       Releasing Judgment. My own method as shared in the free ebook - see cover above.

·       Positive and structured self talk

·       NLP practices – I am a qualified as a practitioner at diploma level

·       Visualisations
·       My own work inspired in part by the work of Lester Levinson (He also inspired the Sedona Method, and the Releasing Technique)
·       EFT or tapping (I took an introductory training. I am largely self taught through online classes.)

·       The Journey process (I did a weekend workshop, but the greatest physical result I had was whilst working alone.)

·       Inner child work (Influenced by reading the work of John Bradshaw, Gill Edwards and Louise Hay)

·       The Lightning Process. (I have trained in it, but I am not a trainer.)
I have been pursuing personal development for over 25 years.
I have been pursuing personal development the spiritual path for the whold of my life, but more diligently since a spiritual experience in 1991.

To contact Katherine Owen

You can connect with me by signing up to one of the websites or joining me on social media – see the icons at the top of the page.
If you want to share your wisdom about finding health within or beyond illness, please leave a comment in the healing forum.
If you need to contact me personally, you can do so via the contact box below. I may not be able to correspond at length but will be delighted to hear from you.

Thank you so much for being here.
Click below to move to the home page of Katherine Owen's website.


Receive daily inspiration...
by putting your favorite (favourite) healing quote on
a mug, cushion, postcard, coaster, T shirt etc.
You will find my zazzle gift store at
zazzle.com/HealingStore.
Use one of my designs or start from a blank.
Thank you from me, Katherine, author of HealingCFSME.com

© Katherine T Owen. All articles on this website are copyrighted. I am delighted if you choose to click above to share this page on social media, but please do not copy, print or otherwise use without my permission. Thank you.


Disclaimer: I am not a medical practitioner. The articles on this website are not to be taken as medical advice. Please consult a medical practitioner as necessary.

Disclosure: On some pages, there are affiliate links, for example to Amazon. If you click and then buy within a certain time period, I will receive a small commission which goes towards the running of this healing website. Abundant thanks :-)