Minerals for Alternative Healing

Recommended for CFS/ME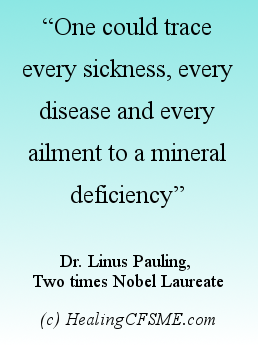 When considering whether to take minerals for alternative healing of CFS, ME ( Chronic Fatigue Syndrome / Myalgic Encephalomyelitis), any chronic illness, or just for general health management, consider the following information:

Vitamins are often favoured over minerals for alternative healing, and yet approximately 99% of the body is made up of minerals.

"The human body needs at least 60 trace minerals in order to maintain a disease and ailment free state."
Gary Price Todd, M.D.
"One could trace every sickness, every disease and every ailment to a mineral deficiency"
Dr. Linus Pauling, two times Nobel Laureate
Research by UNICEF and the World Health Organisation indicate that there are mineral deficiencies in the soil.
Foods grown today contain an average of only 16 to 18 minerals.
(The plant derived mineral supplement I recommend here contains up to 75 minerals.)

Recommendation for Minerals for Alternative Healing of CFS

I am so convinced of the effectiveness of these minerals for alternative healing that I became an affiliate. Please know that this does not affect my recommendation which comes from my own personal experience.


In 2014, when looking for an alternative healing supplement for CFS, I came across plant derived minerals. These have significantly helped me.
At the time of writing, I have been taking these mineralsfor 9 months. I shall probably take them for the rest of my life.

I have learned that many scientists believe that between vitamins and minerals, minerals are more important for health. One of the benefits is that minerals provide the body with the basis to absorb vitamins from food more readily.
Given the need to choose financially between the two, I now choose to take minerals for alternative healing of CFS rather than vitamins.
I know from blood tests that I am low in magnesium and have taken a magnesium supplement throughout the years of illness. I now take this multimineral instead.

(NB. If you are NOT going to take a multimineral supplement, but only one mineral for CFS, I recommend that you take magnesium. However, the benefit of taking a multimineral is that you maintain the natural balance of the minerals in the body.)

The following information relates to the plant derived minerals I take for CFS. I recommend them highly. I am such a fan!
testimonials which speak of
As far as I know there are no testimonials on the minerals website specific to taking the minerals for CFS.
The minerals have however helped to increase people's energy and have helped to relieve pain. 

The amount I am able to do increased whilst the only thing that had changed was my taking these plant derived minerals.  It took three months to see the first clear increase. I take them now as maintenance.

I experienced a small detox reaction after two weeks as did two other people I know who take them.
Those of you living with chronic fatigue syndrome will understand that I cannot be sure if was the plant based minerals which caused the benefit. But I think it was.

Plant derived minerals are more effective for alternative healing. Why?

Sadly the video above is only available to affiliates, but the information in the image is important.
The product contains 75 minerals, and because they are from a rich mineral deposit, some of these minerals are simply no longer available elsewhere.
Because they are plant derived, the body absorbs 100% of the minerals as opposed to 10% to 20% of the minerals in rock based metallic minerals.
These plant derived minerals are leeched out from the rich mineral deposits with nothing added and nothing taken away.
At the time of writing, in addition to these minerals for healing I also take a protein drink which serves as a very handy meal replacement and contains vitamins and minerals no longer readily available from our diet.

I used to take the sizzling minerals on autoship. You pop a tablet or wafer in water to make a drink. After a year! I discovered that the powder works out considerably cheaper so I took those for a while. But I prefer the sizzling ones and have returned to them.
Click through to read more about these healing minerals.
If you decide to buy, please use my link. Any contribution will contribute to the cost of running this website which costs me quite a bit to run.
Thank you.
Joining you in seeing you healed,

Katherine
Katherine T Owen
Webmaster at www.HealingCFSME.com

---
Articles relevant to Minerals for Alternative Healing
Visit the home page for more about alternative healing therapy.


Receive daily inspiration...
by putting your favorite (favourite) healing quote on
a mug, cushion, postcard, coaster, T shirt etc.
You will find my zazzle gift store at
zazzle.com/HealingStore.
Use one of my designs or start from a blank.
Thank you from me, Katherine, author of HealingCFSME.com

© Katherine T Owen. All articles on this website are copyrighted. I am delighted if you choose to click above to share this page on social media, but please do not copy, print or otherwise use without my permission. Thank you.


Disclaimer: I am not a medical practitioner. The articles on this website are not to be taken as medical advice. Please consult a medical practitioner as necessary.

Disclosure: On some pages, there are affiliate links, for example to Amazon. If you click and then buy within a certain time period, I will receive a small commission which goes towards the running of this healing website. Abundant thanks :-)