Healing Chronic Fatigue Syndrome
Alternative healing therapy blog including Chronic Fatigue Syndrome ME advice.
How to change thoughts to change health and improve quality of life with chronic illness.
The author was bedbound for 14 years with a diagnosis of CFS and Myalgic Encephalomyelitis. She invites you to join her in finding self compassion, self love and natural common sense through the challenges of living with chronic illness.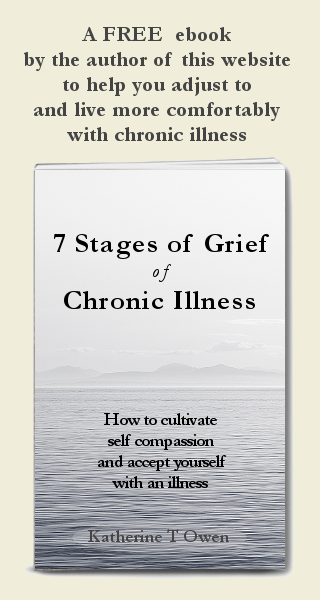 Sign up to receive the free book
and to keep in touch
Dec 04, 2020
Multiple Chemical Sensitivity - book review
What is Multiple Chemical Sensitivity. My personal experience, book review, advice for treatment, Practitioners who may help with healing from MCS
Continue reading "Multiple Chemical Sensitivity - book review"

Receive daily inspiration...
by putting your favorite (favourite) healing quote on
a mug, cushion, postcard, coaster, T shirt etc.
You will find my zazzle gift store at
zazzle.com/HealingStore.
Use one of my designs or start from a blank.

Thank you for supporting this website :-)
© Katherine T Owen. All articles on this website are copyrighted. I am delighted if you choose to click above to share this page on social media, but please do not copy, print or otherwise use without my permission. Thank you.


Disclaimer: I am not a medical practitioner. The articles on this website are not to be taken as medical advice. Please consult a medical practitioner as necessary.

Disclosure: On some pages, there are affiliate links, for example to Amazon. If you click and then buy within a certain time period, I will receive a small commission which goes towards the running of this healing website. Abundant thanks :-)