Anger about Chronic Illness

Do you feel anger about chronic illness and its impact on your life? If so, you are not alone.
Finding yourself with a severe chronic illness is a shock to the system.
It is normal and natural to feel angry as a result.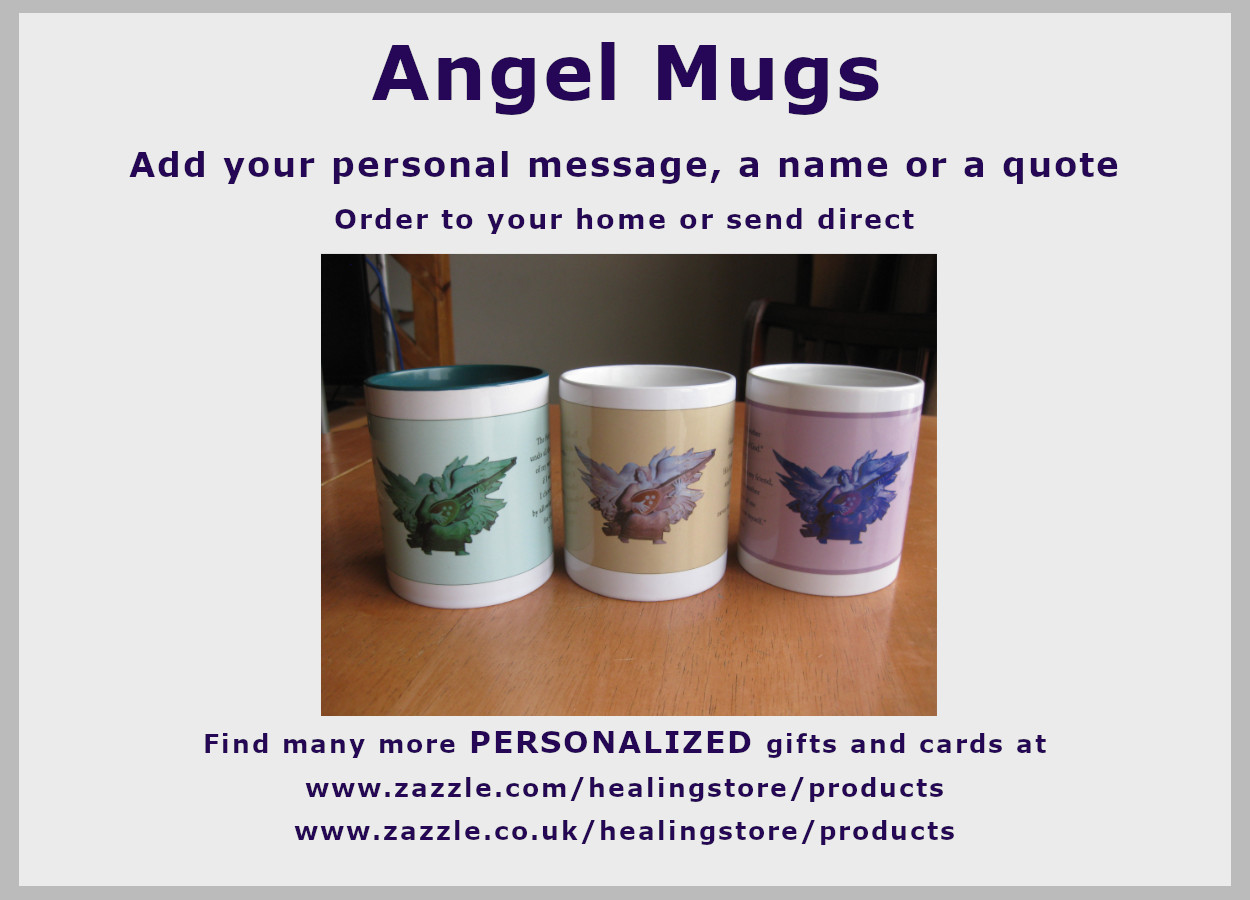 Click on the image above to go through to the Zazzle Healing Store
Or click here to CHOOSE FROM
A RANGE OF personalizable cards and gifts.
The healing-themed gifts are designed by myself, Katherine, the author of
this website HealingCFSME.com
Proceeds go towards the cost of the website. Thank you. Enjoy!

Contents for this healing article

I felt anger about chronic illness
Help yourself to a resource to find compassion for yourself when you feel anger

What are the benefits of feeling your anger?

A poem (thought-bite) about feeling angry about illness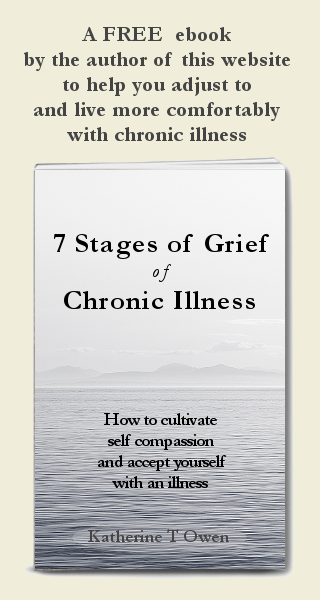 Sign up to receive the free book
and to keep in touch
I Felt Anger About Chronic Illness
For many years I lived with very severe Chronic Fatigue Syndrome. I felt angry about many things
I felt angry that no one came forward to look after me and that I had to fight so hard to stay alive.
I felt angry that life seemed to demand that I be more reasonable than those who were healthy and had less to deal with.
I felt angry that whatever I did, I didn't seem to be able to get things set up so that I was looked after.
I felt angry with myself for being ill!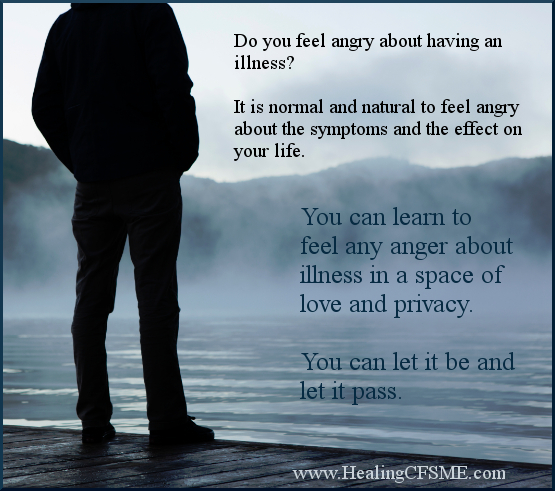 Help yourself to a Resource to find compassion for yourself when you feel anger

Some people feel comfortable with their anger. I wasn't one of them. I judged myself for feeling angry.
Judging yourself for feeling anger can hold you back from actually feeling it.
To learn to feel my anger, I developed a simple and powerful technique I call The Release.
Visit another website if you want to download your copy of my FREE ebook on
Releasing Judgment – Forgiveness Exercises for Self Acceptance and Inner Peace.
What are the Benefits of Feeling your Anger?
You can learn to feel any anger about illness in a space of love and privacy. As you do so, you may experience the following benefits.

Feeling can be healing.

Feeling can allow the anger to pass more quickly.
You are less likely to express anger inappropriately with someone else.
You get a clearer idea of what you feel angry about. You may think you are angry with someone else and find out that you are simply angry about illness.
If you do feel angry with someone else, as you give yourself permission to feel the anger, you will gain a clearer idea of who you are angry with. It might turn out that you feel more angry with yourself than anyone else.
As well as my technique of Releasing Judgment there are other alternative healing methods which can help you to feel your feelings.

A Poem About Feeling Angry about Illness
A characteristic of living with Chronic Fatigue Syndrome / Myalgic Encephalomyelitis is that activity or exercise can aggravate the symptoms.
The following little poem or thought-bite refers to the anger I felt when living with very severe illness at times at not being able to rest sufficiently to keep the symptoms under control.
What Can I Do?
I push myself so hard
I lose most of my vision,
become less tolerant to noise,
feel nauseous with exhaustion;
my nerves scream too much to
let me sleep.
What can I do?
The advice is to rest, but
some things just need doing.
I choose the lesser
of two evils.
It's OK to find yourself in circumstances which force you to do someone physical damage.
"Rest in His Love and protect your rest by loving.
But love everything He created, of which you are a part, or you cannot learn of His peace and accept His gift for yourself and as yourself."
(T-7.VII, A Course In Miracles)


© Katherine T Owen
I am now at a level of health where I can safely do much more for myself than before.
Life is much easier :-)

I still feel angry at times about the significant restrictions of living with chronic illness. I am better at allowing myself to feel the anger than I was before.

---
The British lady, Kate Allatt suffered a stroke that left her with locked in syndrome. In her book, Running for Life, she speaks of how important anger was in her recovery.
Anger gave her the energy to ask for the treatment she needed.
Anger motivated her to keep pushing forward.
Read more about Kate Allatt here.

Feeling anger about chronic illness is a normal and natural stage as you move towards feeling greater acceptance of your level of health.
Please help yourself to a FREE copy of my ebook on chronic illness to learn about the 7 stages of grief of chronic illness.

---
Wishing you health both within and beyond illness,

Katherine
Katherine T Owen
Katherine T Owen runs this website - www.HealingCFSME.com.
She is author of Be Loved, Beloved (Read it in paperback at lulu.com or on kindle)
Move to read more tips to help with emotional healing and health in a time of chronic illness.


Receive daily inspiration...
by putting your favorite (favourite) healing quote on
a mug, cushion, postcard, coaster, T shirt etc.
You will find my zazzle gift store at
zazzle.com/HealingStore.
Use one of my designs or start from a blank.
Thank you from me, Katherine, author of HealingCFSME.com

© Katherine T Owen. All articles on this website are copyrighted. I am delighted if you choose to click above to share this page on social media, but please do not copy, print or otherwise use without my permission. Thank you.


Disclaimer: I am not a medical practitioner. The articles on this website are not to be taken as medical advice. Please consult a medical practitioner as necessary.

Disclosure: On some pages, there are affiliate links, for example to Amazon. If you click and then buy within a certain time period, I will receive a small commission which goes towards the running of this healing website. Abundant thanks :-)