Doctors' Quotes about Chronic Fatigue Syndrome

This article shares doctors' quotes about Chronic Fatigue Syndrome aka Myalgic Encephalomyelitis.
The images are useful to share to raise awareness of this chronic and severe illness.
Where there is an image of the CFS quote, the words are included both in the image and the text.

This website is written by someone who lives with CFS/ME.

"Chronic fatigue syndrome can turn a life of productive activity into one of dependency and desolation...
I have seen the horrors of this disease, multiplied by hundreds of patients"
Jose Montoya, M.D.
Stanford University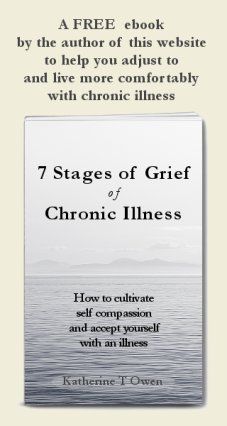 Sign up to receive the free book
and to keep in touch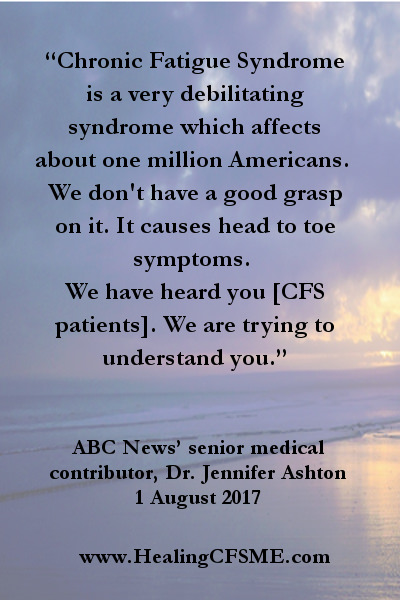 "Chronic Fatigue Syndrome is a very debilitating syndrome which affects about one million Americans.
We don't have a good grasp on it. It causes head to toe symptoms.
We have heard you [CFS patients]. We are trying to understand you."
ABC News' senior medical contributor, Dr. Jennifer Ashton
1 August 2017
In response to the Stanford University Research in the USA revealing cytokines in the blood of those with CFS

"Our findings show clearly that [chronic fatigue syndrome] is an inflammatory disease and provide a solid basis for a diagnostic blood test."
Dr Mark Davis, professor of immunology and microbiology, Stanford University,
July 2017

"I split my clinical time between the two illnesses, and I can tell you if I had to choose between the two illnesses, I would rather have H.I.V. But ME which impacts a million people in the United States alone, has had a small fraction of the research dollars directed towards it."
Dr. Nancy Klimas, AIDS and MyalgicEncephalomyelitis researcher

'.. over 4000 studies.. show.. biological abnormalities in patients with this illness [MyalgicEncephalomyelitis].' 

"The bad news is we don't know what causes it or how to treat it successfully. But the good news is that there are now over 4,000 published studies that show underlying biological abnormalities in patients with this illness."

Dr. Anthony Komaroff, Harvard
'[ME/CFS patients] feel effectively the same every day as an AIDS patient feels two months before death'
Professor Loveless, AIDS&ME/CFS Clinic
"[ME/CFS patients] are more sick and have greater disability than patients with chronic obstructive lung or cardiac disease."
Dr. William Reeves,
Chief of the ME/CFS research programme at the US Centres for Disease Control (CDC)
"…for those who have studied the disease for many years, it is apparent that the most serious issue in ME is a kind of brain malfunction that may be caused by an infectious agent, or some other source that is, so far, poorly understood."
Dr. David Bell, clinician and researcher
Quote about Myalgic Encephalomyelitis - the psychological demands

"Nearly every patient with Myalgic Encephalomyelitis thinks of suicide at one time or another, but rarely can the impulse be blamed exclusively on the physical pain and disability. I have discovered that most people learn to tolerate those things, particularly the tough breed of people who live out in the country.
Instead, sufferers are driven to suicide by loneliness and self-doubt, which arrive part and parcel with the disease itself. Although they are ill with a debilitating flu-like illness every day of their lives, neighbors and even friends and family insist they look "just fine."
It's an unfortunate fact that our culture has yet to accept the harsh reality of chronic disease; often, its ravages are invisible to the naked eye. But ME carries a terrible stigma, the burden of which weighs more heavily on them even than the burdens borne by most victims of chronic disease.
The world seems to believe that people with Myalgic Encephalomyelitis – a population the general medical profession has yet to stamp with its imprimatur of "bona fide" – could "snap out of it" if they really wanted to.
This utterly false perception of the disease is so widespread that, eventually, most patients with it , especially those who become increasingly isolated, have periods when they begin to suspect: 'maybe I am just crazy."
Dr. David Bell, clinician and researcher
"It's not an illness that people can just imagine that they have, and it's not a psychological illness. In my view, that debate, which has raged for 20 years, should now be over."
Dr. Anthony Komaroff, Harvard
ME Awareness

Please consider raising awareness by sharing these images and quotes about Chronic Fatigue Syndrome / MyalgicE on social media. You will find share buttons to the left of the screen and below. In particular, the following dates are set aside to raise awareness.

ME Awareness month is in May each year.
International ME Awareness day is May 12th.
Severe ME Awareness Day is on August 8th and is also a day of remembrance for those who have died from Myalgic Encephalomyelitis, including those who have committed suicide as a result of living with the illness.
---
For more images and quotes about Chronic Fatigue Syndrome / Myalgic Encephalomyelitis move to read an article on CFS Research.
One of the aims of this healing website is to give you hope by sharing articles about learning to cope and find a BIGGER life even with chronic illness.
Is your level of health being doubted by someone important to you? If so, you have my sympathy. I know how hard that is. Move to read an article to cultivate positive self talk to help you cope with disbelief.

© Katherine T Owen. All articles on this website are copyrighted. I am delighted if you choose to click above to share this page on social media, but please do not copy, print or otherwise use without my permission. Thank you.


Disclaimer: I am not a medical practitioner. The articles on this website are not to be taken as medical advice. Please consult a medical practitioner as necessary.

Disclosure: On some pages, there are affiliate links, for example to Amazon. If you click and then buy within a certain time period, I will receive a small commission which goes towards the running of this healing website. Abundant thanks :-)