Alternative Healing Therapy
and
Chronic Fatigue Syndrome /
Myalgic Encephalomyelitis
For 14 years I lived disabled with very severe Chronic Fatigue Syndrome (CFS).
This website shares alternative healing therapy to help you to experience health within illness as well as to bring greater physical health.
My initial diagnosis was for Post Viral Fatigue Syndrome, followed by a diagnosis of Myalgic Encephalomyelitis (ME illness).
At some point I was given a Chronic Fatigue Syndrome diagnosis which is favoured by my current Doctor.
I continue to prefer the term ME.
I have also been mapped for Fibromyalgia.
I have been diagnosed with Multiple Chemical Sensitivity by an expert in the field.
I have  involuntary movements and also have a diagnosis of Functional Neurological DisorderFND.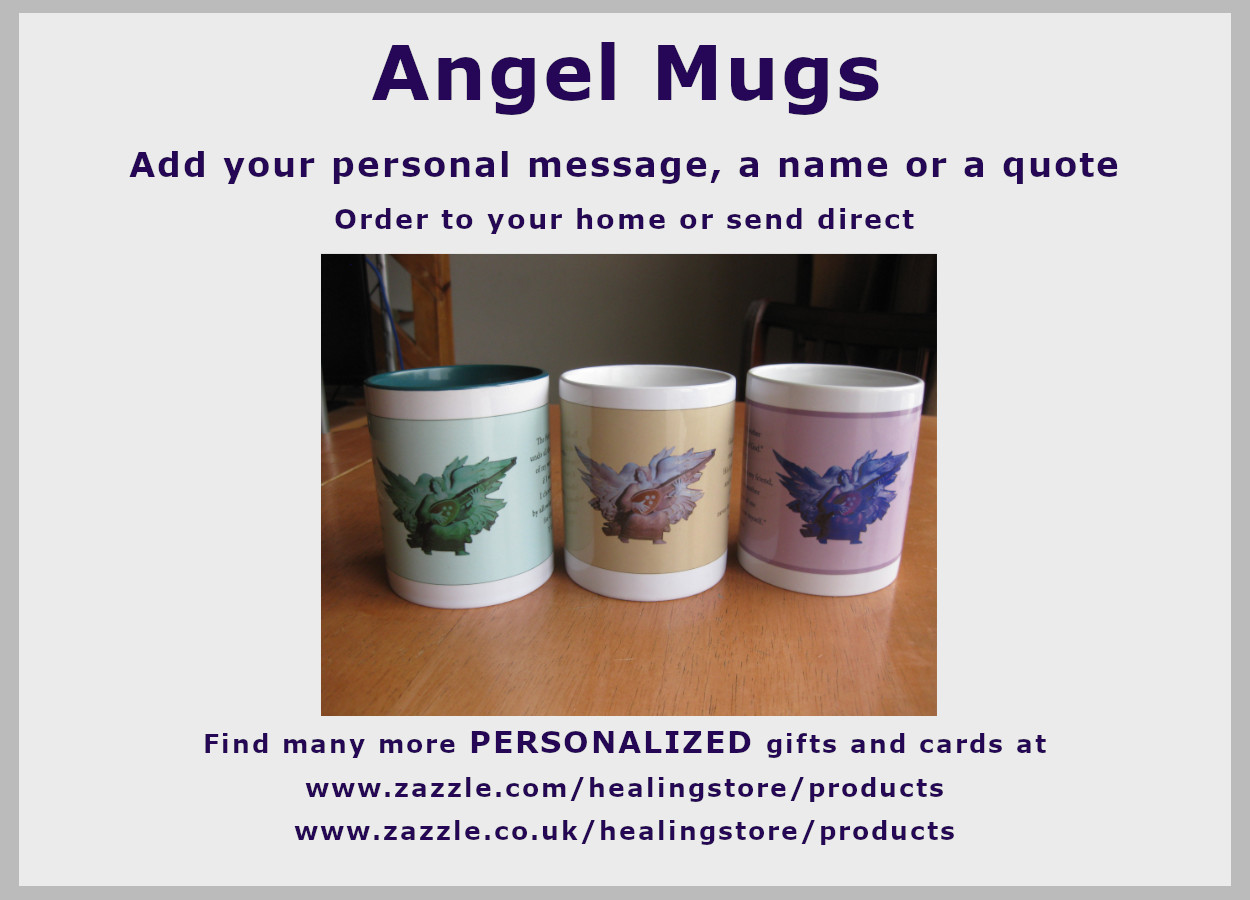 Click on the image above to go through to the Zazzle Healing Store
Or click here to CHOOSE FROM
A RANGE OF personalizable cards and gifts.
The healing-themed gifts are designed by myself, Katherine, the author of
this website HealingCFSME.com
Proceeds go towards the cost of the website. Thank you. Enjoy!

Those living with auto immune disorders such as Lyme disease and Lupus share many of the same symptoms and life challenges of CFS/ME, particularly "spoonies" who also experience chronic fatigue at a disabling level.

Many of the alternative healing therapy articles on this website are not symptom specific.
They may be helpful to anyone living with chronic illness and/or interested in emotional healing or physical healing.
The word healing is different from the word cure.
The word 'cure' implies a making happen.
The word healing implies taking steps to facilitate the natural healing of the body.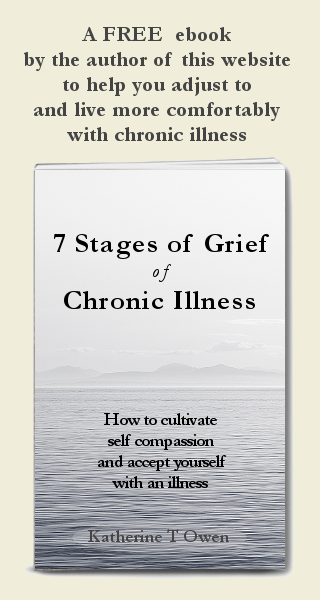 Sign up to receive the free book
and to keep in touch
One person's personal experience of Chronic Fatigue Syndrome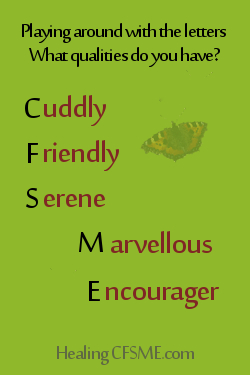 In May 2008, as the result of faith healing and an alternative healing therapy based on Neurolinguistic Programming (NLP), I went from bedbound to walking, from not being able to speak in normal sentences to talking once again.
This website shares information about alternative healing therapy which has helped me to experience dramatic physical healing of symptoms.

Living well with chronic illness

I continue to live with Chronic Fatigue Syndrome / Myalgic Encephalomyelitis. I celebrate all that I can now do.
On this healing website, I share tools and attitudes I have collected along the way to help me find a rich life within illness.
Powerful ingredients towards living well with chronic illness are...
acceptance of illness
self compassion
self love
Knowing about the stages of grief - see the free ebook on that link or above - is one way to help us find more self acceptance and self compassion.
Information about the illness with which we live can be powerful in reducing the stress of uncertainty.
Some articles on this healing website talk about the possible cause of CFS and tests for CFS. I also share CFS news and research as I come across it.
Physical Healing Therapy
Living with Chronic Fatigue Syndrome or any chronic illness is a tremendous physical challenge.
Alternative healing therapy can increase your chances of physical healing.
Here are some examples.
Somatic exercises to heal from trauma can help people with ME/CFS to unlock the body's natural ability to rest, digest and repair.

Diets, vitamins and

minerals

can help to reduce CFS symptoms
Faith healing, sharing powerful scriptures for healing that raised my faith
Healing prayer
Mind healing. Mind body medicine- Neurolinguistic Programming (NLP) and the Lightning Process
Energy healing -

Earth energy healing

products, EFT and Qigong
My personal journey to manifest health - This includes steps back as well as forward!

Many people living with chronic illness are housebound or even bedbound.
Access to treatment can be difficult at the time when it is most needed.
The emphasis on this healing website is on self healing which we can carry out in our own home.
Although I use the term self healing, it is more accurate to say that many natural healing therapies help us to get the self out of the way
... to allow the natural healing of our bodies to take place
... to allow God access to bring the healing which better reflects our reality in Him/Her.
Whatever language you use, healing therapy allows you to take practical steps at home to keep as healthy as possible, in body, mind and Spirit.
DISCLAIMER: I use the accepted term of 'alternative healing', but it is more accurate to refer to complementary healing'. All the healing therapy included on this website can and should be used to complement / work alongside the advice of your doctor.

Move to TOP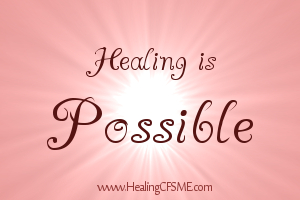 Emotional Alternative Healing Therapy and Spiritual Healing
Healing is 'wholeness'.
Healing / Wholeness can be found in physical health. But it can also be found within illness.
This CFS website shares information to increase your ability to live well with and find the emotional resilience to cope with Chronic Fatigue Syndrome /Myalgic Encephalomyelitis or any other chronic illness.
Coping with chronic illness is likely to bring up new, often uncomfortable emotions.
The symptoms or pain you experience may affect your emotional health directly through chemicals in your body. (The likelihood that you have the symptom of emotional lability (variability in mood) is increased if you live with Multiple Chemical Sensitivity.)
You may go through many emotions as you

mourn your loss of health

, including the emotion or even the illness of

depression

.
In a time of illness, it can be important to cultivate your sense of self worth. If you are treated badly or experience neglect, remind yourself that the way you are treated is not a reflection on your worth.
You may need to learn emotional healing skills to cope with disbelief or lack of understanding of chronic illness from other people in your life.
You will need to

learn to say No

and to ask for the help you need.
These natural healing articles aim to help you to find inner peace, self love, self worth and self acceptance in your life right now, regardless of your state of health.
When you are in pain or symptoms are pressing in it is helpful to be reminded - you are OK just as you are.
I will share articles on
How to relax and

cope with stress

How to rest in God – and cope with the silence that may be imposed on you
My journey with Chronic Fatigue Syndrome and depression
Popular psychology and healing – mind healing can guide us in how to improve quality of life and manage our health
Pastimes available even when you live with Severe Chronic Fatigue Syndrome
Emotional healing therapy– including positive self talk
My personal journey of how I lived with the illness severe CFS/ME - I will share poems about illness, and healing poems
Healing quotes

Move to TOP
Self Healing Books
Self help books were so important to me through the years of isolation.
Yet I also found (and continue to find) that many books on self healing didn't apply to a situation as extreme as my own.
Sometimes these books on self healing leave me feeling I am wrong to be living with illness or I should be able to heal from one moment to the next.
Other self healing books that do speak of serious illness validate my pain and distress, but  dwell so continuously on the symptoms and difficulties that they leave me feeling hopeless rather than uplifted.
This website and my healing books aim to help you to be gentle with yourself during the difficult time of living with chronic illness as well as to inspire you to find a greater quality of life or to find physical healing.

It's OK to find a life just as you are right now
at the level of health you are at
Spiritual Faith Healing
The website will include articles on spiritual healing -  spiritual surrender to God (however you understand the word God).
Much of the alternative healing therapy discussed on this website works with spiritual principles, though it may be unnecessary to hold spiritual beliefs to apply the techniques.
Mine has been a personal spiritual journey, much of it walked within the solitude and silence that accompanied being bedbound with severe Chronic Fatigue Syndrome.
Whilst I resist labels, you may be interested to know that I am an interfaith, non duality Christian and a student of A Course In Miracles.
Welcome to this alternative healing website!
Whether you stay and wander here a while, or whether you move on, thank you for being here in this moment.
---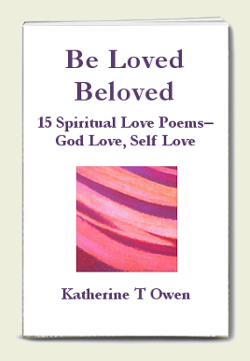 Wishing you health both within and beyond illness,

Katherine
Katherine T Owen
Katherine T Owen runs this website - www.HealingCFSME.com.
She is author of Be Loved, Beloved (Read it in paperback at lulu.com or on kindle)
---

Receive daily inspiration...
by putting your favorite (favourite) healing quote on
a mug, cushion, postcard, coaster, T shirt etc.
You will find my zazzle gift store at
zazzle.com/HealingStore.
Use one of my designs or start from a blank.
Thank you from me, Katherine, author of HealingCFSME.com


It's OK to live with illness.

It's OK to get well.
Move to TOP
© Katherine T Owen. All articles on this website are copyrighted. I am delighted if you choose to click above to share this page on social media, but please do not copy, print or otherwise use without my permission. Thank you.


Disclaimer: I am not a medical practitioner. The articles on this website are not to be taken as medical advice. Please consult a medical practitioner as necessary.

Disclosure: On some pages, there are affiliate links, for example to Amazon. If you click and then buy within a certain time period, I will receive a small commission which goes towards the running of this healing website. Abundant thanks :-)