Multiple Chemical Sensitivity

Book review by someone with MCS
What is Multiple Chemical Sensitivity

Multiple Chemical Sensitivity is a chronic medical condition characterized by symptoms attributed to low-level chemical exposure. It is more recognised in some countries than others.
Different people react to different chemicals. Because there are so many different chemicals in so many products and in different products, you are unlikely to identify a specific chemical that causes the symptoms.
You are however likely to see improvement if you detox your environment by eating more natural food and using more natural products on your skin and to clean your home.

My journey with MCS

I live with Multiple Chemical Sensitivity (MCS).
The symptoms used to be life threatening for me. I was at a level of chronic illness where I needed carers (caregivers) to feed me. Yet I reacted so badly to the regular domestic products used by the carers - hair products and laundry products - that I would experience temporary paralysis. It took time to open and shut my jaw to be fed.

I had never heard of Multiple Chemical Sensitivity at the time. I thought I must have an allergy to certain products, but eventually Allergy UK informed me that I probably had Multiple Chemical Sensitivity.
I was later diagnosed by a private doctor (NB. I live in the UK).
As a result of cutting down on regular domestic products I experienced significant healing from many of the symptoms: I regained some speech and was able to sit up for longer. I also relieved the symptoms of eczema - (areas of dry and peeling skin, sometimes itchy). For me the eczema is particularly brought on by laundry products.
Detoxification Diet

For many years I heard about detoxification diets but nothing seemed affordable or doable.
In 2019 I discovered and did the 4 week Metabolism Reset Diet. I now recommend this diet to anyone wishing to get their liver working better to detoxify the body.
Go here to read about the detoxification symptoms I experienced. They weren't fun.
But I still recommend it.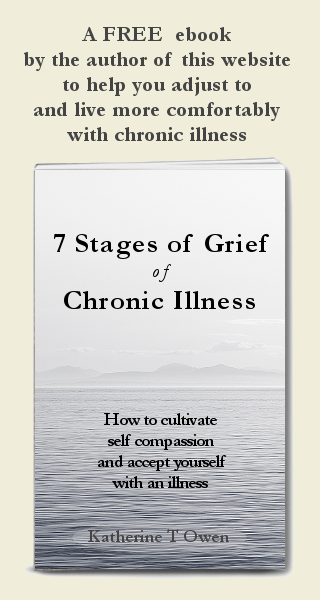 Sign up to receive the free book
and to keep in touch
Book review, relevant to those with MCS
I would like to share my book review for a book relevant to those with MCS.
At the time when I was severely ill, I very much wanted a book that could help me to take steps to detox my environment. I found the wonderful Allergy Survival Guide, but the information was already out of date.
It is with excitement then that I can tell you about a book launched in 2014 which can provide you with up to date information.
The book Toxic World Toxic People (Amazon USA link) (Amazon UK link ) is relevant to anyone seeking healing or seeking to maintain health.
It is not written specifically for those with Multiple Chemical Sensitivity. However, if you have the condition I suspect you will value all the more greatly the advice on safe products and the measures you can take to detox your environment.
The book might also help you to be gentle on yourself and move towards acceptance of this often chronic condition. You will understand your symptoms better when viewed in the context of the weighty information the author, Anna Victoria Rodgers, puts forward about the dangers of toxicity present in our every day lives.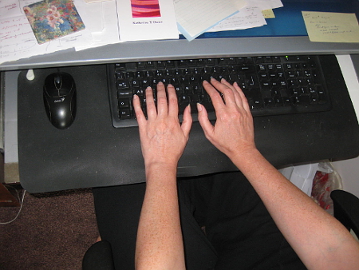 Here I am resting my wrists on my computer GROUNDING MAT
"Both Anna Rodgers and myself recommend GROUNDING MATS to reduce electrical exposure. A grounding sheet has helped me to sleep better." Katherine T Owen, webmaster

Toxic world toxic people - a book review

Toxic world toxic people is an incredibly well researched book. It is also extremely readable.
At times the book is personal. The author, Anna Victoria Rodgers, speaks about her own experience of chemical poisoning at a young age and how she has only recently put the pieces of the puzzle together to realise the impact of this event on her subsequent health – both physical and emotional.
It is extremely heartening to hear that someone who suffered from mood swings and health problems in infancy has found a way to a healthier and therefore happier life.
The book gives you information about the dangers of toxicity to our health and provides practical tips for what you can do to lessen your exposure.
It is a substantial book, at 800 pages!

Recommendations for safer products suitable for Multiple Chemical Sensitivity
I found the personal product recommendations from the author particularly valuable.
For those of use with Multiple Chemical Sensitivity, it can be disheartening to try and find products that do what they claim to do.
I love the fact that Anna has tried products or approaches out for herself so she can give us an informed opinion. She also provides web addresses so we can look up information for ourselves.
(The book also talks briefly about the dangers to our health of Wi-Fi. It won't tell you anything new on this subject if you live with Electrical Sensitivity (ES) as I do, but I appreciate its inclusion. If you are hunting for the information relevant to electrical sensitivity, it is in the chapter on Nature and our vital connection with it)

This book is a wonderful source of information if you want a healthier life for yourself or your child.
It will perhaps be of even greater interest to someone with Multiple Chemical Sensitivity (MCS) who already experiences symptoms from toxins, or anyone living with chronic illness who wants to reduce the stress on their body and free up their body's resources to facilitate the healing process.
Many people will not wish to make huge changes to their life to reduce toxic exposure. However, there are plenty of changes recommended within this book that can be made relatively easily. And the author recommends further sources of information should you wish to detox your environment to a greater extent.
This was a book that needed writing. An awesome amount of research has been involved and I thank the author for her diligence.
All the website information and the references to research are current and up to date at 2014.
I particularly appreciate that although this book speaks about the dangers of toxicity in the world, it doesn't come across as written by someone who wants to shut herself away from the world.
Anna Victoria Rodgers is clearly delighted with her healing from toxicity and is eager to share with us what she has learned to allow her to live a healthier and happier life.
---
For anyone living with chronic illness, it makes sense to combine any conventional or alternative healing therapy with steps to clean up your environment.

In addition, consider these additional steps to reduce the demands you make on your body. You can thereby free up energy for healing.

eat a healthy diet
manage your emotional health by exploring natural healing for any depression you experience (NB. Chemical sensitivity can be a cause of depression)
In terms of recommendations for healing MCS, my level of Multiple Chemical Sensitivity was greatly reduced after doing the 3 day training in the Lightning Process (possibly combined with having set my faith for healing).
I have also heard recommended Annie Hopper's Dynamic Neural Retraining System. Annie Hopper developed it after experiencing MCS for herself.

Multiple Chemical Sensitivity can be the cause of some CFS symptoms. Click through to read about other possible causes of CFS symptoms or causes of CFS itself.



Receive daily inspiration...
by putting your favorite (favourite) healing quote on
a mug, cushion, postcard, coaster, T shirt etc.
You will find my zazzle gift store at
zazzle.com/HealingStore.
Use one of my designs or start from a blank.

Thank you for supporting this website :-)
© Katherine T Owen. All articles on this website are copyrighted. I am delighted if you choose to click above to share this page on social media, but please do not copy, print or otherwise use without my permission. Thank you.


Disclaimer: I am not a medical practitioner. The articles on this website are not to be taken as medical advice. Please consult a medical practitioner as necessary.

Disclosure: On some pages, there are affiliate links, for example to Amazon. If you click and then buy within a certain time period, I will receive a small commission which goes towards the running of this healing website. Abundant thanks :-)