Fibromyalgia test
This article originally shared only the fibromyalgia test of mapping. This information is now further down this page.

A visitor to this healing website has been in touch with news of a blood test and even a treatment for Fibromyalgia!
I will share her words and leave you to do your own further research. My great thanks to Debbie.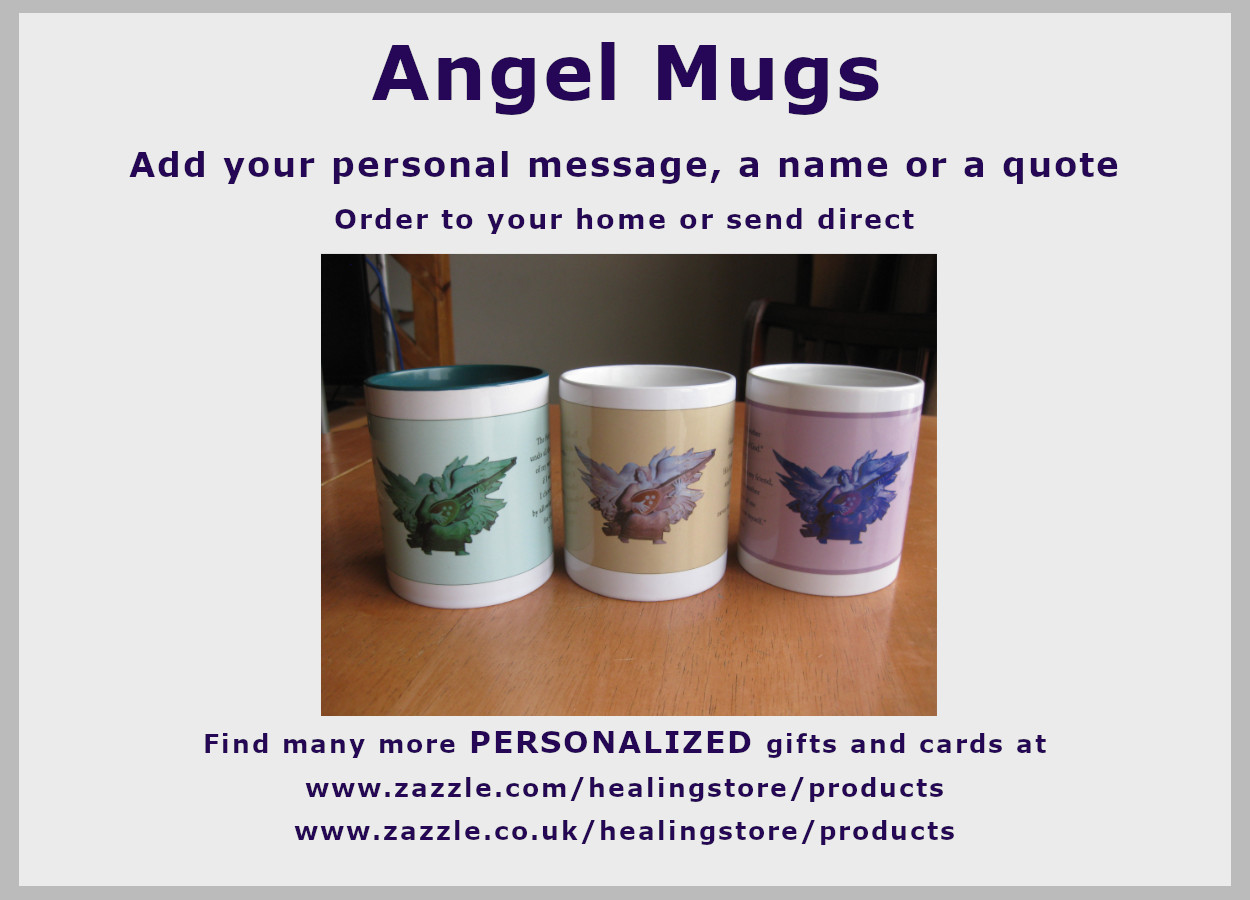 Click on the image above to go through to the Zazzle Healing Store
Or click here to CHOOSE FROM
A RANGE OF personalizable cards and gifts.
The healing-themed gifts are designed by myself, Katherine, the author of
this website HealingCFSME.com
Proceeds go towards the cost of the website. Thank you. Enjoy!

Contents for this article on Fibromyalgia test
Blood test for Fibromyalgia and a study for a possible treatment

What are the differences between Chronic Fatigue Syndrome and Fibromyalgia?
Mapping -a Fibromyalgia test
Guifenesin - alternative treatment for Fibromyalgia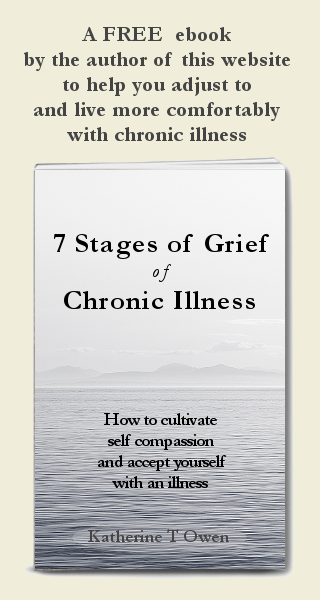 Sign up to receive the free book
and to keep in touch
Blood test for Fibromyalgia
From Debbie:

"The CDC and NIH in the US no longer recognize pressure points to diagnose Fibromyalgia. The only patented FDA compliant blood test is available from EpicGenetics in LA, CA.
For all of the info go to www.fmtest.com or on facebook at The FM Test.
I had the blood test in 2016. It is 99% accurate...
People with Fibromyalgia have an immune system disorder of white blood cells...something to do with our chemokines and cytokines being messed up.
Harvard and Mass General Hospital have discovered that a new strain of the BCG/TB vaccine can reverse this problem.
They have been using the TB vaccine as a treatment - not as prevention - for bladder cancer, MS and Type 1 Diabetes.
[As at June 2018] the vaccine will be available soon at Mass General Hospital as a clinical trial for the treatment of Fibromyalgia.
The blood test is available in 10+ foreign countries and is paid for by 15+ insurance companies including Medicare.
People need to call them and they will check their insurance to see if it is covered. If not they will work out an interest free payment plan. The fibromyalgia test costs just over $1,000.00. People can use this test to help get disability.
A list of the insurance companies that cover the test is on their website.
Also, a list of the foreign countries where people can get the blood test (through EpicGenetics) is on their website."
What are the differences between Chronic Fatigue Syndrome and Fibromyalgia?
The differences between Chronic Fatigue Syndrome and Fibromyalgia are unclear. Many people, such as myself, meet the diagnostic criteria for both.
People with Fibromyalgia often experience more pain than those with CFS. But according to Dr St Amand, author of What your Doctor May not Tell You About Fibromyalgia, some people have a high pain threshold. They 'pass the 'mapping test' for the tender points despite having little pain.
Mapping -a Fibromyalgia test
Mapping is a Fibromyalgia test.
Although mapping is an alternative health test, the positive diagnosis is respected as relevant by my Doctor and may be respected by your own. Of course, this is likely to change if the blood test for Fibromyalgia mentioned above becomes more widely available.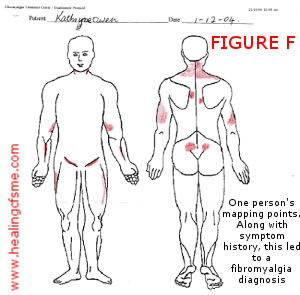 Mapping is a physical examination of pressure points.
Light pressure is applied by the practitioner to the body's muscles.
For a diagnosis of Fibromyalgia specific tender point areas must be located.
To find a practitioner qualified to carry out this Fibromyalgia test, you will need to search online for...
"How do I find a mapper for Fibromyalgia?"
The mapper I went to was someone trained in massage who then did further training to be qualified to identify the tender areas required for diagnosis.
You can see my Fibromyalgia testing map in FIGURE F.

I found a list of UK mappers here.
Please search for 'mappers' in your own country.
Why have the fibromyalgia test - be mapped?

Mapping is not an expensive test. 
It is important to believe yourself, and give yourself support and understanding when you live with  chronic illness. Learning that you have these pain spots around your body can help you to do so.
And as I say, my Doctor was interested to learn that I had been mapped. He has included the diagram of the mapping points in my medical notes.

---
Guifenesin - alternative treatment for Fibromyalgia

Many people with Fibromyalgia find Guifenesin an effective treatment to bring healing from the symptoms.
Guifenesin is recommended in Dr St Amand's book What your Doctor May not Tell You About Fibromyalgia.
Guifenesin is not available in the UK on the NHS and needs to be bought privately from USA or Canada.
A good friend of mine is back to a full and busy life after taking it for several years. (She still experiences pain though.)

I have thought of taking Guifenesin and may still do so, but I must admit to being put off by the fact that it takes you through your past symptoms on the way to restoring you to health.
It makes sense to me that healing is a process. But the thought of going back to being in as much pain as I once was and being bedbound again for periods of time is a definite deterrent!

This process of going through past symptoms is referred to as 'cycling'. If Guifenesin works for you you will go through bad patches, each time hopefully followed by moving up to greater health. 
I am no expert on taking Guifenesin for Fibromyalgia or CFS/ME, but I wanted to mention it so that you can do your own research.

---
Click on the middle link below to move from Test for Fibromyalgia to read about other tests relevant to those with the following chronic illnesses, Fibromyalgia, Chronic Fatigue Syndrome and Myalgic Encephalomyelitis.


Receive daily inspiration...
by putting your favorite (favourite) healing quote on
a mug, cushion, postcard, coaster, T shirt etc.
You will find my zazzle gift store at
zazzle.com/HealingStore.
Use one of my designs or start from a blank.
Thank you from me, Katherine, author of HealingCFSME.com

© Katherine T Owen. All articles on this website are copyrighted. I am delighted if you choose to click above to share this page on social media, but please do not copy, print or otherwise use without my permission. Thank you.


Disclaimer: I am not a medical practitioner. The articles on this website are not to be taken as medical advice. Please consult a medical practitioner as necessary.

Disclosure: On some pages, there are affiliate links, for example to Amazon. If you click and then buy within a certain time period, I will receive a small commission which goes towards the running of this healing website. Abundant thanks :-)