How to Improve Life with Chronic Illness:
Healing and Purpose
This page shares a guest article about one inspiring lady's healing journey with chronic illness, and the important part played by the cultivation of a sense of purpose.
Over to Cam Auxer to share about her journey and her collaborative book.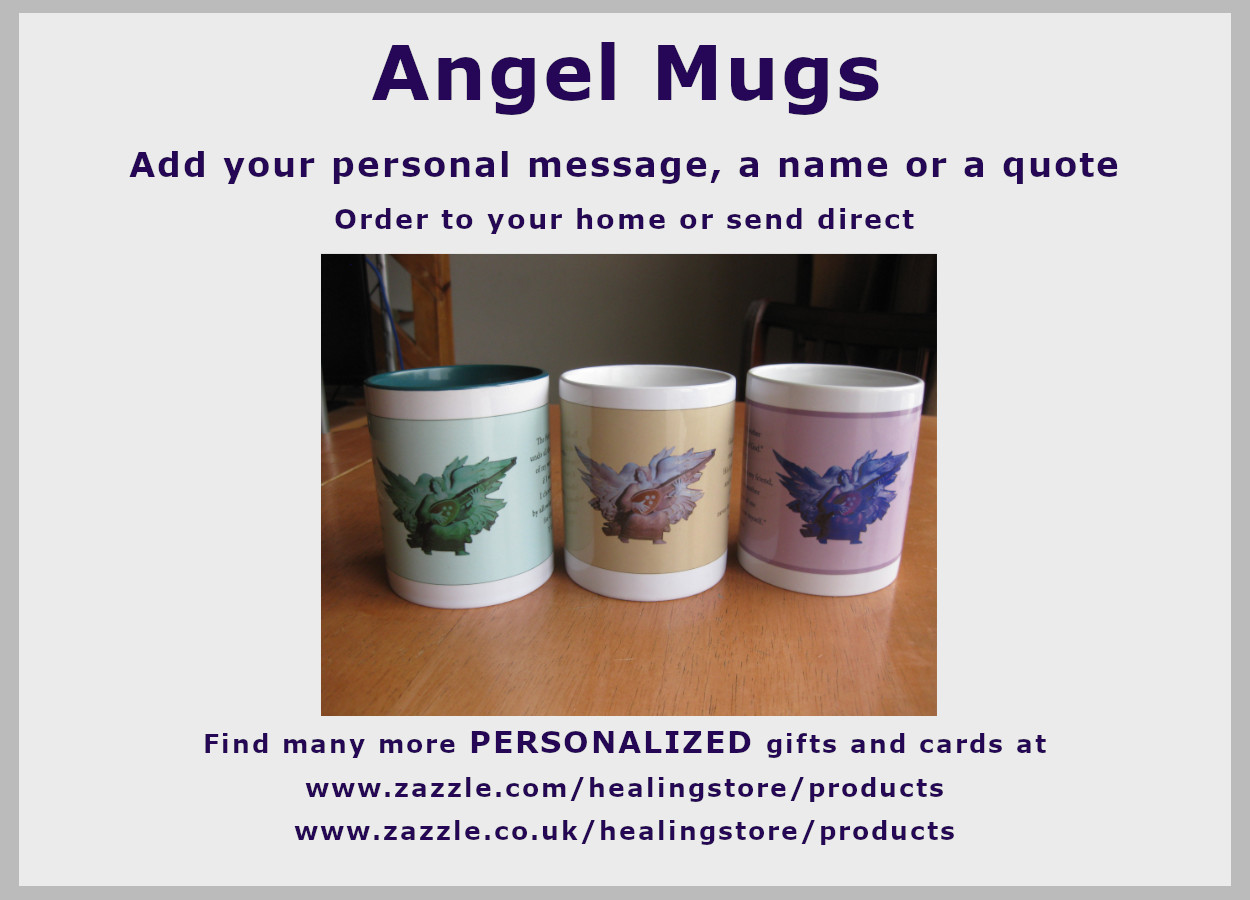 Click on the image above to go through to the Zazzle Healing Store
Or click here to CHOOSE FROM
A RANGE OF personalizable cards and gifts.
The healing-themed gifts are designed by myself, Katherine, the author of
this website HealingCFSME.com
Proceeds go towards the cost of the website. Thank you. Enjoy!

Chronic Illness from the Get-Go
As a child, I had asthma, allergies and pain. As the years went by, other chronic conditions crept in that occasionally hindered and bothered me but didn't stop me. 
It wasn't until I had three heart attacks over eight days, lost my short-term memory for two months, developed Chronic Fatigue Syndrome (CFS) and was diagnosed with a rare disease that my life stopped in its tracks. 

I dove into a dark funk, plastered to my bed or recliner for days at a time, life feeling hopeless and meaningless.
Things went up and downhill for a few years before I finally had enough of my negativity, the isolation and everyone's judgement.  I could either totally collapse into myself or make the best out of a bad situation.
Coming Out of the Funk
I began to blog on a website called Inspire.com.
Connecting with others who were ill helped curb the feeling of isolation and was enormously reassuring.  I received positive feedback about my blogs, so in 2012 I started my own website called Pajama Daze (www.pajamadaze.com).
Pajama Daze began as "my" blog but became richer with guests sharing wisdom and insight, and new sections featuring art, creating income, resources, book reviews and entertainment.  Pajama Daze became a hit and soon received nominations for awards.
The biggest reward, however, was the sense of purpose that it gave me.
When Bodies Break
After 10 years of Chronic Fatigue Syndrome, I suddenly found myself in an inexplicable remission in 2015!  I decided to put together a book featuring Pajama Daze contributors. That sense of purpose again! 
Our collaboration produced the book When Bodies Break: How We Survive and Thrive with Illness and Disability.  Published in December 2018, it features people in four countries with a spectrum of conditions and situations, telling their unique stories while highlighting the common experiences we share. 
The book includes advice on the following

self-care,
navigating the medical system,
finding passion and purpose,
a bountiful reading list

the Take-Charge Patient Tool Kit (courtesy of Martine Ehrenclou). 
During the second day of promotion, the book hit #22 on Amazon's Hot New Releases in Health and continues to receive five-star reviews!  It's available on Amazon in paperback, e-book and audiobook.
Cancer
During the summer of 2018, in the midst of preparing the book for publication, I relocated to New England, learning that same day about my sister's suicide after being denied pain medication. 
Two weeks later, I was diagnosed with breast cancer. 
Completing the book was a healing process as I mourned my sister and killed my cancer.
After a year of treatments and surgery, I'm cancer-free but the post-treatment fatigue rivals Chronic Fatigue Syndrome. 
Hopefully it will subside.
Moving Forward
This year I started a new website, Live Well with Chronic Illness www.livewellwithchronicillness.com to promote the book When Bodies Break and showcase products and information for people with chronic illness and explore types of passive income. 
I am currently trying my hand at affiliate marketing and sharing my experiences. 
I also want to start a Reiki practice, officiate weddings and housesit to create income, doing things I enjoy that aren't physically demanding. 
I'm learning to paint and play music, too.  That sense of purpose keeps me moving forward!
Even if you are bed-bound, it's important to have a sense of purpose, if only to meet a goal of sitting up or listening to an audiobook or writing a poem.  Purpose is a healer on so many levels.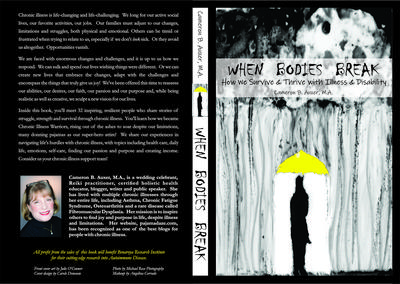 Click to buy When Bodies Break:  How We Survive with Illness and Disability
All royalties go to autoimmune research
---
Back to Katherine:
Dear Cameron, it has been a delight to 'know' you a little via twitter over the years and to get to know you a little more through this article.
Huge congratulations on the achievement of the book and the websites.
Thank you so much for sharing your healing journey with us on www.HealingCFSME.com
And I wish you health both within and beyond illness.

I wish all you reading this a sense of joyful purpose in your life :-)


To receive your copy of my own ebook for healing emotions in a time of chronic illness,
or simply to keep in touch, please subscribe below. It's free :-)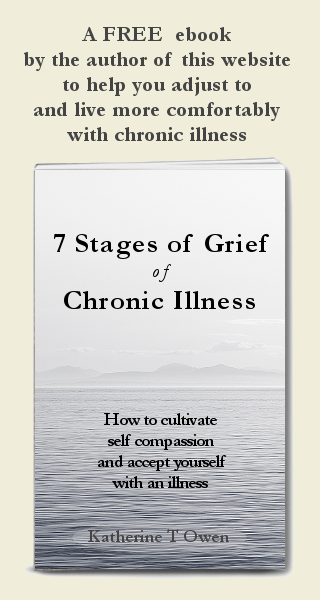 Sign up to receive the free book
and to keep in touch
When we live with chronic illness, we need new permissions to cope with the changes.
Move from How to Improve Life with Chronic Illness: Healing and Purpose to read some of my recommended emotional health management approaches.


Receive daily inspiration...
by putting your favorite (favourite) healing quote on
a mug, cushion, postcard, coaster, T shirt etc.
You will find my zazzle gift store at
zazzle.com/HealingStore.
Use one of my designs or start from a blank.
Thank you from me, Katherine, author of HealingCFSME.com

© Katherine T Owen. All articles on this website are copyrighted. I am delighted if you choose to click above to share this page on social media, but please do not copy, print or otherwise use without my permission. Thank you.


Disclaimer: I am not a medical practitioner. The articles on this website are not to be taken as medical advice. Please consult a medical practitioner as necessary.

Disclosure: On some pages, there are affiliate links, for example to Amazon. If you click and then buy within a certain time period, I will receive a small commission which goes towards the running of this healing website. Abundant thanks :-)